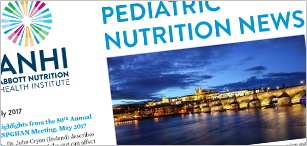 Pediatric Nutrition News: ESPGHAN 2017
This newsletter highlights compelling topics presented at the 50th ESPGHAN annual meeting in Prague, Czech Republic. Topics include: gut-brain axis influence on brain development; microbiome and increased incidence of childhood allergies; human milk oligosaccharides and infant health; infant gut colonization; the link between prematurity and necrotizing enterocolitis; and the crucial role of lutein, natural vitamin E, and DHA in visual and cognitive development.


Hospital Dysglycemia and the Importance of Nutrition Therapy
Managing hospital dysglycemia is critical to improving outcomes and is a marker for quality of care. Nutrition therapy is a key component in the comprehensive management of diabetes and hyperglycemia in the hospital setting. Glycemia-targeted nutritional formulas can positively impact postprandial glycemic response, mean glucose, and glycemic variability; and help reduce insulin requirements, length of stay, and hospital cost.
»»
geriatric maternal-health Articles