Featured Conference Summaries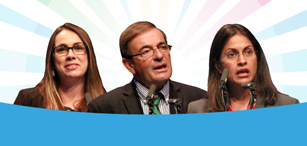 International Conference on Frailty and Sarcopenia Research
Clinical experts on sarcopenia and nutrition science present research supporting the benefits of specialised oral nutritional supplements to maintain muscle function and physical performance in older community-dwelling and hospitalized adults.
»»
geriatric diabetes Conference Summaries



Evidence Supporting the Role of Specialized Nutrition in Recovery
Refaat Hegazi, MD, PhD, MS, MPH, ABPNS, Medical Director, Abbott Nutrition, Columbus, Ohio, USA
Malnutrition is associated with illness, injury, and hospitalization. Malnutrition negatively impacts patient outcomes including ...

GI Surgeries: Improve Clinical and Economic Outcomes
Julie K. Marosky Thacker, MD, FACS, FASCRS, Duke University Medical Center, Department of Surgery, Division of Advanced Oncologic and GI Surgery Durham, North Carolina, USA
Perioperative medicine is a relatively new field with less scientific proof than one might think. Dr Thacker opened the 115th Abb...