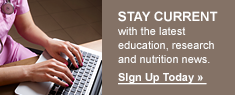 Assessing Cognition and Brain Function
Neal J. Cohen, PhD, University of Illinois at Urbana-Champaign, Center for Nutrition, Learning, and Memory, Center for Lifelong Improvement of Minds & Brains, Beckman Institute, USA
Dr. Cohen describes "powerful" methods for identifying and characterizing multiple memory systems in the brain. He explains that t...

Assessing Cognition and Brain Function
Neal J. Cohen, PhD, University of Illinois at Urbana-Champaign, Center for Nutrition, Learning, and Memory, Center for Lifelong Improvement of Minds & Brains, Beckman Institute, USA
Cognition involves thinking and knowing, which are supported by acquiring, processing, and using information. These actions are dr...


Blenderized Tube Feeding: Current Practices and Future Outlook
Lisa Epp, RDN, LD, CNSC, Mayo Clinic, Home Enteral Nutrition, Mayo Clinic College of Medicine and Mayo School of Health Sciences Rochester, Minnesota, USA
An increase in consumer desire for more natural, organic, and non-genetically modified products has led to an increased desire to ...

View All Conferences Summaries »»