Our Mission
Abbott Nutrition Health Institute helps health care professionals around the world transform the science of nutrition into effective solutions in every stage of life. ANHI is dedicated to educating health care professionals to improve patient outcomes and enhance the health of people worldwide.
Learn more about ANHI
Continuing Medical Education Programs
We provide support for pediatric and adult nutrition topics so you can earn CME credits at no cost to you!
Learn More »

ANHI is on LinkedIn!
Connect with us on LinkedIn and get the latest information on nutrition news, courses, conference summaries and more!
Link With Us »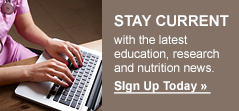 Filter by Topic

New York Academy of Science - The conference focused on the role nutrition plays in hospital and community settings. Learnings provided evidence that nutritional interventions may shorten hospital stays, prevent readmissions and improve malnourished patients' quality of life.
This meta-analysis demonstrates no significant difference of effect of preoperative immunonutrition (IN) as compared to standard oral nutritional supplements (ONS) on postoperative clinical outcomes.
Nutritional needs during lactation are unique and one of the highest demands for good nutrition during a woman's life. Many breastfeeding moms are not meeting the optimal nutrient intakes for both mom and baby.

The 114th Abbott Nutrition Research Conference - Dr Minihane reviews the acute and chronic impact of eicosapentaenoic acid and docosahexaenoic acid and the interaction with the apolipoprotein 4 (APOE-ε4) genotype.