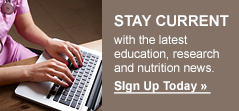 Filter by Topic
This article summarizes a roundtable discussion from leaders in nutrition and healthcare on how nutrition care can be integrated in post-hospital discharge care.
Inborn errors of metabolism (IEM) are single gene defects that result in abnormalities in the synthesis or catabolism of proteins, carbohydrates or fats. Individually they are rare but together they are common with a collective incidence in ~ 1 in 3,000 live births.
tDNA Interview - Osama Hamdy, M.D., Ph.D
tDNA Interview - Osama Hamdy, M.D., Ph.D - Dr. Hamdy recounts why he became involved in the transcultural Diabetes Nutrition Algorithm (tDNA) project. He discusses the importance of having primary care physician involvement in clinical practice for the nutritional management of people with diabetes mellitus. Learn what Dr. Hamdy believes are the biggest challenges for diabetes mellitus care today.