Our Mission
Abbott Nutrition Health Institute helps health care professionals around the world transform the science of nutrition into effective solutions in every stage of life. ANHI is dedicated to educating health care professionals to improve patient outcomes and enhance the health of people worldwide.
Learn more about ANHI
Continuing Medical Education Programs
We provide support for pediatric and adult nutrition topics so you can earn CME credits at no cost to you!
Learn More »
U.S. News & World Report discusses the impact of nutrition care on hospital readmissions.
Addressing nutrition issues may benefit hospitals as well as patients.
Learn More »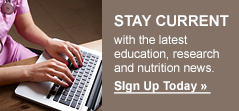 Filter by Topic
The 114th Abbott Nutrition Research Conference - The right nutrition at the right time is key to cognitive development in early life and helping to limit cognitive decline in later years.
How do we reduce readmissions in a way that is both effective and efficient for hospitals? The first step could be as simple as education, screening and nutrition intervention.
This article identifies drivers of health reform related to healthcare quality and value, identifies risk factors for pressure ulcer development and describes the role of oral nutritional supplementation in reducing and/or preventing pressure ulcers.
ESPEN 2013 Symposium - The use of oral nutritional supplements (ONS) in the community reduces (re)admissions to the hospital. Calculating the cost of changing pathways of nutrition care, ie, the resource impact, identifies cost savings.