Improving Patient Outcomes

Our Mission
Abbott Nutrition Health Institute helps health care professionals around the world transform the science of nutrition into effective solutions in every stage of life. ANHI is dedicated to educating health care professionals to improve patient outcomes and enhance the health of people worldwide.
Learn more about ANHI
Visit our conference resources on cognition and nutrition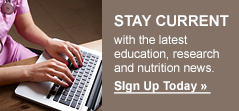 Filter by Topic
The 113th Abbott Nutrition Research Conference - The 113th Abbott Nutrition Research Conference offered a broad global perspective on how nutritional status can influence patient outcomes and healthcare costs.
This article provides examples where collaboration efforts, within the hospital staff supporting nutrition initiatives, have enhanced patient outcomes.
The 36th annual CNW conference is recognized as the premier conference for bridging the science and practice of clinical nutrition and metabolism.
The Science of Lutein and DHA: A Special Focus during Infancy - The presenter discusses the chemistry, in food and in the human body, of Lutein and DHA. She also discusses the functional and structural relationships as well as the importance in early development.