U.S. News & World Report discusses the impact of nutrition care on hospital readmissions.
Addressing nutrition issues may benefit hospitals as well as patients.
Learn More »
The Resident Learning Center
We are pleased to provide residents and faculty an online and mobile, evidenced-based nutrition education resource to help residents manage and counsel patients.
Learn More »

Our Mission
Abbott Nutrition Health Institute helps health care professionals around the world transform the science of nutrition into effective solutions in every stage of life. ANHI is dedicated to educating health care professionals to improve patient outcomes and enhance the health of people worldwide.
Learn more about ANHI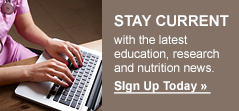 Filter by Topic
The 112th Abbott Nutrition Research Conference - The 112th Abbott Nutrition Research Conference focused on exploring pregnancy nutrition and the impact on later health outcomes.
This article identifies drivers of health reform related to healthcare quality and value, identifies risk factors for pressure ulcer development and describes the role of oral nutritional supplementation in reducing and/or preventing pressure ulcers.
The 113th Abbott Nutrition Research Conference offered a broad global perspective on how nutritional status can influence patient outcomes and healthcare costs.
Abbott Nutrition Science Series: Melody Thompson - The Science Seminar Series includes seven presentations with topics in Preterm Infant Nutrition; Lutein, DHA, Vitamin D and Palm Olein Oil for infants; and Lean Body Mass, Diabetes and Cancer Nutrition Therapy for adults.