ANHI is on LinkedIn!
Connect with us on LinkedIn and get the latest information on nutrition news, courses, conference summaries and more!
Link With Us »
Continuing Medical Education Programs
We provide support for pediatric and adult nutrition topics so you can earn CME credits at no cost to you!
Learn More »

Our Mission
Abbott Nutrition Health Institute helps health care professionals around the world transform the science of nutrition into effective solutions in every stage of life. ANHI is dedicated to educating health care professionals to improve patient outcomes and enhance the health of people worldwide.
Learn more about ANHI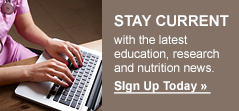 Filter by Topic
THE 115TH ABBOTT NUTRITION RESEARCH CONFERENCE

At Abbott Nutrition, we are working to bridge the knowledge of evidence-based medicine and consensus among healthcare professionals on the value of nutritional innovations to improve outcomes in GI surgery.
This article summarizes a roundtable discussion from leaders in nutrition and healthcare on how nutrition care can be integrated in post-hospital discharge care.
Inborn errors of metabolism (IEM) are single gene defects that result in abnormalities in the synthesis or catabolism of proteins, carbohydrates or fats. Individually they are rare but together they are common with a collective incidence in ~ 1 in 3,000 live births.