Our Mission
Abbott Nutrition Health Institute helps health care professionals around the world transform the science of nutrition into effective solutions in every stage of life. ANHI is dedicated to educating health care professionals to improve patient outcomes and enhance the health of people worldwide.
Learn more about ANHI
Continuing Medical Education Programs
We provide support for pediatric and adult nutrition topics so you can earn CME credits at no cost to you!
Learn More »
ANHI is on LinkedIn!
Connect with us on LinkedIn and get the latest information on nutrition news, courses, conference summaries and more!
Link With Us »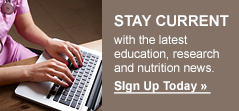 Filter by Topic
The purpose of this review is to assess the potential benefits of prebiotics as an adjunct therapy of oral rehydration salts/solutions in the management of acute gastroenteritis and in the prognosis of post-infectious irritable bowel syndrome in children and adults.
Picky or fussy eating behaviors in children can often increase stress levels within a family.
New York Academy of Science - Tomas Phillipson, PhD assess the effect of inpatient oral nutrition supplement (ONS) use the length of stay (LOS), episode costs and 30-day readmission rates.