Abbott Nutrition Health Institute (ANHI) has created some easy-to-use tools to support your continuing education and understanding of new scientific breakthroughs and current topics.
human milk oligosaccharides(hmo)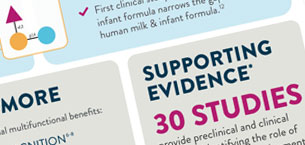 Over the last 16 years, more than 25 studies have provided preclinical and clinical evidence supporting the role of HMOs in the immune system. Discover more about how they work and the immune benefits they provide.
Download our infographic to learn more about what HMOs do and their immune-nourishing benefits for infants.
Download Infographic (PDF 1.09MB)

Listen to Podcast
Listen to a short podcast by Dr Hackam and Dr Buck discussing how HMOs function in the body and the role they play in the infant's developing immune system.

Continued Education Units:
1.0 Nurse Contact Hours, 1.0 Dietitian CPEU
decoding the
new

fda nutrition facts label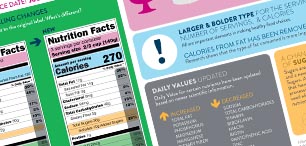 The biggest change in the food labeling system in more than 20 years is here. We will guide you through the changes made by the FDA such as types of nutrients required, amounts listed, and the scientific research behind the new requirements. These label changes go into effect from now until the compliance date of July 26, 2018.
Download the infographic detailing the new FDA guidelines for nutrition facts labels.
Download Infographic (PDF 1.04MB)

Listen to Podcast
Listen to a short podcast providing an overview of the new FDA Nutrition Facts Label.

Continuing Education Units:
4.0 Nurse Contact Hours, 4.0 Dietitian CPEU