Abbott Nutrition Health Institute (ANHI) has created some easy-to-use tools to support your continuing education and understanding of new scientific breakthroughs and current topics.
malnutrition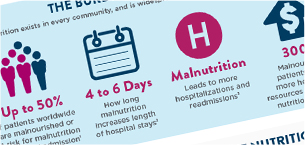 Malnutrition is a lack of proper nutrition, a condition in which the body doesn't receive the right nutrients in the right amounts. It exists across health care settings, in every community, and in both emerging and developed nations.
This infographic will demonstrate:
The burden of malnutrition across the globe
Simple interventions to improve nutrition care
The benefits of addressing malnutrition
Download Infographic in English (PDF 52KB)

Download Infographic in Spanish (PDF 852KB)


Earn a Certificate of Training in Adult Malnutrition
Simply complete 7 courses and the online post-test to receive your certificate. Keep in mind you'll need to fulfill at least 1 of your 7 credits by attending a group program or webinar.
human milk oligosaccharides(hmo)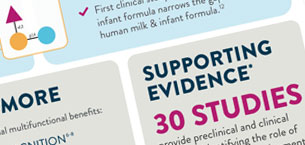 Over the last 16 years, more than 25 studies have provided preclinical and clinical evidence supporting the role of HMOs in the immune system. Discover more about how they work and the immune benefits they provide.
Download our infographic to learn more about what HMOs do and their immune-nourishing benefits for infants.
Download Infographic (PDF 1.53MB)

Listen to Podcast
Drs Rachel Buck, Ardyth Morrow, and JoMay Chow describe microbiome colonization and review clinical evidence of the role HMOs play in establishing a healthy gut.

Continued Education Units:
1.5 Nurse Contact Hours, 1.5 Dietitian CPEU
Listen to Podcast
Listen to a short podcast by Dr Hackam and Dr Buck discussing how HMOs function in the body and the role they play in the infant's developing immune system.

Continued Education Units:
1.0 Nurse Contact Hours, 1.0 Dietitian CPEU

Continued Education Units:
1.0 Nurse Contact Hours/1.0 Dietitian CPEU
decoding the
new

fda nutrition facts label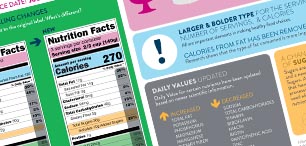 The biggest change in the food labeling system in more than 20 years is here. We will guide you through the changes made by the FDA such as types of nutrients required, amounts listed, and the scientific research behind the new requirements.
Note: In May 2016, the US Food and Drug Administration (FDA) finalized the Nutrition Facts Label rules for large food manufacturers, and set the compliance date for July 26, 2018. On September 29, 2017, the FDA proposed extending the compliance date to January 1, 2020 to address concerns regarding the time needed for implementation of the final rules. Learn more
Download the infographic detailing the new FDA guidelines for nutrition facts labels.
Download Infographic (PDF 1.04MB)

Listen to Podcast
Listen to a short podcast providing an overview of the new FDA Nutrition Facts Label.

Continuing Education Units:
4.0 Nurse Contact Hours, 4.0 Dietitian CPEU