Featured Conference Summaries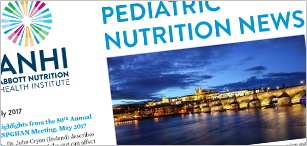 Pediatric Nutrition News: ESPGHAN 2017
This newsletter highlights compelling topics presented at the 50th ESPGHAN annual meeting in Prague, Czech Republic. Topics include: gut-brain axis influence on brain development; microbiome and increased incidence of childhood allergies; human milk oligosaccharides and infant health; infant gut colonization; the link between prematurity and necrotizing enterocolitis; and the crucial role of lutein, natural vitamin E, and DHA in visual and cognitive development.
Growth Summit: Advancing Nutrition Science for Optimal Childhood Growth
World-renowned thought leaders in pediatric growth assessment and nutritional intervention present their research findings, insights, and expert opinions on: growth assessment and monitoring, growth faltering across the globe and risk assessment, musculoskeletal development and growth, molecular regulation of the growth plate, and malnutrition and dietary intervention.

International Conference on Frailty and Sarcopenia Research
Clinical experts on sarcopenia and nutrition science present research supporting the benefits of specialised oral nutritional supplements to maintain muscle function and physical performance in older community-dwelling and hospitalized adults.
»»
adult patient-assessment Conference Summaries

A Dietary Inflammatory Index to Predict Changes in Inflammatory Markers
James R. Hébert, MSPH, ScD University of South Carolina, Columbia, SC, USA Director, South Carolina Statewide Cancer Prevention and Control Program Professor of Epidemiology and Biostatistics
Diet plays a central role in the regulation of chronic inflammation. After searching and not finding a diet-based inflammatory i...

A Nutrigenomic Approach to Prevention of Inflammation
Henk F. J. Hendriks, PhD TNO Quality of Life, Zeist, Netherlands Senior Scientist and Project Leader, Human Physiology Group Product Manager, Human Volunteer Studies in Nutrition
Reduction of the inflammatory status may prevent the occurrence of disorders and diseases related to overweight. In contrast to ac...

Advances in MR Imaging and the Questions They Answer
Bradley P. Sutton, PhD, University of Illinois at Urbana-Champaign, Bioengineering Department, Beckman Institute, USA
Magnetic resonance imaging (MRI) provides many windows into the physiology of the brain, providing sensitive measures to follow nu...

ASPEN CNW 2017 – Abbott Nutrition Health Institute hosted the 2017 ASPEN Clinical Nutrition Week. Download the conference newsletter here.

Assessing Cognition and Brain Function
Neal J. Cohen, PhD, University of Illinois at Urbana-Champaign, Center for Nutrition, Learning, and Memory, Center for Lifelong Improvement of Minds & Brains, Beckman Institute, USA
Dr. Cohen describes "powerful" methods for identifying and characterizing multiple memory systems in the brain. He explains that t...
Additional Recommended Content