Featured Conference Summaries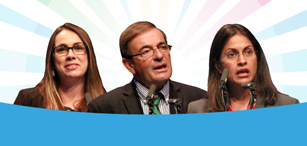 International Conference on Frailty and Sarcopenia Research
Clinical experts on sarcopenia and nutrition science present research supporting the benefits of specialised oral nutritional supplements to maintain muscle function and physical performance in older community-dwelling and hospitalized adults.

What Do We Know About Sugars and Non-Caloric Sweeteners?
Robert Murray, MD, FAAP, Nationwide Children's Hospital, Pediatric Gastroenterology and Nutrition, and Ambulatory Medicine Columbus, Ohio, USA
Consumers choose foods based on taste, value, and convenience, often regardless of nutrient density. There is a risk that overzeal...



What role does nutrition play in diabetes management?
Etie Moghissi, MD, FACP, FACE Associate Clinical Professor Department of Medicine University Of California Los Angeles
Proper nutrition is very important to managing a patient's diabetes, and the dietician must be involved in all decisions involving...