Featured Conference Summaries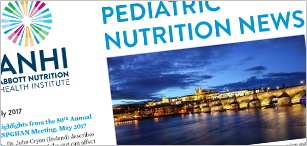 Pediatric Nutrition News: ESPGHAN 2017
This newsletter highlights compelling topics presented at the 50th ESPGHAN annual meeting in Prague, Czech Republic. Topics include: gut-brain axis influence on brain development; microbiome and increased incidence of childhood allergies; human milk oligosaccharides and infant health; infant gut colonization; the link between prematurity and necrotizing enterocolitis; and the crucial role of lutein, natural vitamin E, and DHA in visual and cognitive development.
Growth Summit: Advancing Nutrition Science for Optimal Childhood Growth
World-renowned thought leaders in pediatric growth assessment and nutritional intervention present their research findings, insights, and expert opinions on: growth assessment and monitoring, growth faltering across the globe and risk assessment, musculoskeletal development and growth, molecular regulation of the growth plate, and malnutrition and dietary intervention.

International Conference on Frailty and Sarcopenia Research
Clinical experts on sarcopenia and nutrition science present research supporting the benefits of specialised oral nutritional supplements to maintain muscle function and physical performance in older community-dwelling and hospitalized adults.


Workshops: Sarcopenia and Obesity; Sarcopenia and Inflammation; Sarcopenia and Training
Juergen M. Bauer, Department of Geriatric Medicine, Friedrich – University of Erlangen-Nuremberg, Germany Marjolein Visser, VU University, and VU University Medical Center, Amsterdam, Netherlands Jeffrey R. Stout, University of Oklahoma, Norman, Oklahoma, US
Read a brief synopsis of the three workshops offered at the meeting, on various topics related to aging and sarcopenia.


You Are What You Eat: Nutrition and the Newborn Brain
Terrie Inder, MD Washington University in St Louis Professor in Pediatrics, Neurology and Radiology St Louis Children's Hospital St Louis, MO, USA
A mother's nutritional habits while she carries her baby can have huge impacts on the long-term health of her child. This presenta...