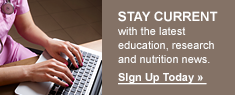 Blenderized Tube Feeding: Current Practices and Future Outlook
Lisa Epp, RDN, LD, CNSC, Mayo Clinic, Home Enteral Nutrition, Mayo Clinic College of Medicine and Mayo School of Health Sciences Rochester, Minnesota, USA
An increase in consumer desire for more natural, organic, and non-genetically modified products has led to an increased desire to ...


Hear from Kelly Tappenden
Kelly A. Tappenden, PhD, RD, FASPEN, University of Illinois at Urbana-Champaign Human Nutrition Urbana, Illinois, USA
What are the clinical benefits of a low-FODMAP diet? Dr. Tappenden reviews how short term use of this restricted diet can help all...

Hear from Lisa Epp
Lisa Epp, RDN, LD, CNSC, Mayo Clinic Home Enteral Nutrition Mayo Clinic College of Medicine and Mayo School of Health Sciences Rochester, Minnesota, USA
Which patients can benefit from blenderized tube feeding (BTF)? Ms Epp discusses resources available to clinicians, and the need f...

Hear from Osama Hamdy
Osama Hamdy, MD, PhD, FACE, Joslin Diabetes Center Harvard Medical School Boston, Massachusetts, USA
Is a structured meal plan more beneficial than a fluid meal plan for people with diabetes? Dr Hamdy summarizes recent study result...
View All Conferences Summaries »»
No results for this category. Please choose another topic from the Lifecycle.