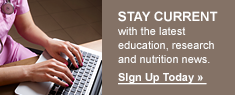 Assessing Growth and Nutritional Status
Marion Aw, MD, Department of Paediatrics, Khoo Teck Puat – National University Children's Medical Institute,National University Health System, Singapore
Dr Aw reviews strategies for measuring pediatric growth and assessing nutritional status with the A, B, C's of assessment: Anthrop...

Biology of Hormonal and Nutritional Regulators at the Growth Plate
Julian Lui, PhD, Section on Growth and Development, Eunice Kennedy Shriver National Institute of Child Health and Human Development(NICHD), Bethesda, Maryland, USA
Dr Lui reviews key regulatory mechanisms of longitudinal bone growth at the growth plate, and the impact of nutrition on growth ra...

Blenderized Tube Feeding: Current Practices and Future Outlook
Lisa Epp, RDN, LD, CNSC, Mayo Clinic, Home Enteral Nutrition, Mayo Clinic College of Medicine and Mayo School of Health Sciences Rochester, Minnesota, USA
An increase in consumer desire for more natural, organic, and non-genetically modified products has led to an increased desire to ...


Growth Faltering in Childhood—Causes and Consequences
Robert E. Black, MD, Institute for International Programs, Johns Hopkins Bloomberg School of Public Health, Baltimore, Maryland, USA
Dr Black discusses the impact of undernutrition on growth faltering and morbidity in children that are stunted or at risk of growt...
View All Conferences Summaries »»
No results for this category. Please choose another topic from the Lifecycle.