Featured Conference Summaries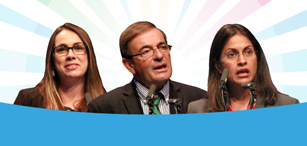 International Conference on Frailty and Sarcopenia Research
Clinical experts on sarcopenia and nutrition science present research supporting the benefits of specialised oral nutritional supplements to maintain muscle function and physical performance in older community-dwelling and hospitalized adults.
»»
geriatric diabetes Conference Summaries


Upper Gastrointestinal Surgery and Nutritional Implications
Krishnan Sriram, MD, FACS, FRCSC, FCCM Stroger Hospital of Cook County Surgical Critical Care, Department of Surgery Rush University Chicago, Illinois, USA
The complexity of resections and reconstructions of the upper gastrointestinal (UGI) tract and the resulting nutritional implicati...

What are the barriers you face in managing hyperglycemia?
Etie Moghissi, MD, FACP, FACE Associate Clinical Professor Department of Medicine University Of California Los Angeles
Etie Moghissi of the University of California Los Angeles discusses recent improvements in treating hyperglycemia, including proac...