Featured Conference Summaries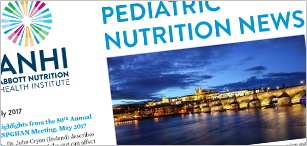 Pediatric Nutrition News: ESPGHAN 2017
This newsletter highlights compelling topics presented at the 50th ESPGHAN annual meeting in Prague, Czech Republic. Topics include: gut-brain axis influence on brain development; microbiome and increased incidence of childhood allergies; human milk oligosaccharides and infant health; infant gut colonization; the link between prematurity and necrotizing enterocolitis; and the crucial role of lutein, natural vitamin E, and DHA in visual and cognitive development.
Growth Summit: Advancing Nutrition Science for Optimal Childhood Growth
World-renowned thought leaders in pediatric growth assessment and nutritional intervention present their research findings, insights, and expert opinions on: growth assessment and monitoring, growth faltering across the globe and risk assessment, musculoskeletal development and growth, molecular regulation of the growth plate, and malnutrition and dietary intervention.

International Conference on Frailty and Sarcopenia Research
Clinical experts on sarcopenia and nutrition science present research supporting the benefits of specialised oral nutritional supplements to maintain muscle function and physical performance in older community-dwelling and hospitalized adults.

Biology of Hormonal and Nutritional Regulators at the Growth Plate
Julian Lui, PhD, Section on Growth and Development, Eunice Kennedy Shriver National Institute of Child Health and Human Development(NICHD), Bethesda, Maryland, USA
Dr Lui reviews key regulatory mechanisms of longitudinal bone growth at the growth plate, and the impact of nutrition on growth ra...

Blenderized Tube Feeding: Current Practices and Future Outlook
Lisa Epp, RDN, LD, CNSC, Mayo Clinic, Home Enteral Nutrition, Mayo Clinic College of Medicine and Mayo School of Health Sciences Rochester, Minnesota, USA
An increase in consumer desire for more natural, organic, and non-genetically modified products has led to an increased desire to ...


Breakthrough Scientific Data and Clinical Evidence Supporting the Use of HMB to Optimize Health and Disease Management - Introduction
Refaat Hegazi, MD, PhD, MS, MPH, ABPNS, Medical Director, Abbott Nutrition, Columbus, Ohio, USA
Lean body mass (LBM) / muscle is important for healthy aging and disease management. Both aging and immobility independently cause...

Additional Recommended Content