Frailty in Aging Adults: Screening and Management Approaches
Program Date: 9 September 2020
Publication Date: 19 November 2020
Continuing Education Units: Nurse Contact: 1.0; Dietitian CPEU: 1.0
Course Description:
In this course, you'll explain the condition of frailty; discuss how to screen for frailty; and describe management options, including nutrition-related approaches. Originally presented as a live webinar in collaboration with the International Council on Active Aging (ICAA) and Aging in Motion, on September 9, 2020.
Course Objectives:
•Explain the condition of frailty and its risk factors.
•Discuss how to screen for frailty and current guidelines.
•Describe management options for frailty, including nutrition-related approaches.
CDR Level: 1
Performance Indicators: 4.2.7, 8.1.2, 8.3.1
Run Time: 55
Course Instructor Bio(s)

Jeremy Walston, MD
Raymond and Anna Lublin Professor, Geriatric Medicine
Johns Hopkins University School of Medicine
Baltimore, MD, USA
Dr Jeremy Walston is the Raymond and Anna Lublin Professor of Geriatric Medicine and Gerontology, the deputy director of the Division of Geriatric Medicine and Gerontology, the principal investigator of the Johns Hopkins Older Americans Independence Center, and the co-director of the Biology of Healthy Aging program. His research focus is on determining the biological characteristics that promote resiliency and healthy aging, and on the translation of that knowledge into diagnostic, preventive and treatment strategies that promote a long and healthy life. He has previously helped to define the most commonly utilized frailty measurement in older adults and has identified dysregulated energy metabolism and stress response pathways as characteristics of frailty. Ongoing efforts include studies that are informing how age-related changes in inflammation, mitochondria, and the renin-angiotensin system influence both resiliency and frailty in older adults. His clinical focus is in Geriatric Medicine and Rehabilitation, in developing care management pathways that better protect older adults, and in developing and promoting guidelines that help to promote a long and healthy life.
He received his M.D. from the University of Cincinnati College of Medicine and completed residency in general internal medicine and a fellowship in Geriatric Medicine and Gerontology at the Johns Hopkins University School of Medicine.
Suzette L Pereira, PhD
Senior Associate Research Fellow
Abbott Nutrition
Columbus, OH, USA
Suzette Pereira is an Associate Research Fellow at Abbott leading studies focused on muscle health and muscle loss due to aging. Her research is focused on evaluating nutritional therapies that can prevent muscle and strength declines due to sarcopenia, hospitalization and chronic diseases. She has led preclinical studies to identify key ingredients (such as HMB) that can prevent muscle wasting. Her current work is focused on translating the findings from preclinical studies to human clinical studies to help improve nutritional products for adults.
Over the last 12 years at Abbott, Suzette has led several collaborations with scientific key opinion leaders, business partners and across Abbott. She currently serves as the Abbott representative to the 'FNIH- Sarcopenia Biomarker Consortium', a group dedicated to developing a consensus definition of Sarcopenia and driving awareness. Prior to joining Abbott, Suzette obtained her Ph.D. and carried out post-doctoral research in the department of Microbiology at the Ohio State University. She has co-authored more than 30 peer-reviewed scientific publications, and routinely presents her research at national and international scientific conferences. She is also a co-inventor on over 80+ filed patents.

Abbott Nutrition's Provider Statement for Nursing CEs:
Abbott Nutrition Health Institute is an approved provider of continuing nursing education by the California Board of Registered Nursing Provider #CEP 11213.
Abbott Nutrition's Provider Statement for Dietitian CPEUs:
Abbott Nutrition Health Institute (RO002), is a Continuing Professional Education (CPE) Accredited Provider with the Commission on Dietetic Registration (CDR). CDR credentialed practitioners will receive continuing professional education units (CPEUs) for completion of this program/materials. Continuing Professional Education Provider Accreditation does not constitute endorsement by CDR of a provider, program, or materials.
In addition to completing an online evaluation, participants of our programs can provide feedback directly to CDR.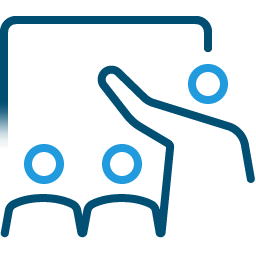 Our Learning Approaches
Traditional and Reflective Learning

attended a live program?
FREQUENTLY ASKED QUESTIONS
continuing medical education courses