Decoding the New Nutrition Facts Label: Protein
This new Certificate of Training on the Nutrition Facts Label allows you to claim 4 total CE credits. You are required to complete all 4 courses (1 credit for each course) and the final post-test.
Program Date: April 2017
Publication Date: 21 April 2017
Continuing Education Units: 1.0 Nurse Contact Hours, 1.0 Dietitian CPEU
Course Objectives:
Recognize significant changes to the Nutrition Facts Label
Review protein digestion, absorption, utilization and synthesis
Describe role and science in maintaining lean body mass
Discuss other dietary factors that impact health and muscle function
Translate nutrition labeling updates into consumer-friendly terms
CDR Level: 2
Performance Indicators: 11.2.1, 12.4.5, 8.1.3
Media Format(s): Video (English)
Run Time: 50 Minutes
Course Instructor Bio(s)

Elizabeth Johnson, MS
Senior Director of Food Policy & Scientific Affairs
Food Directions LLC
Elizabeth (Beth) Johnson, MS, founded Food Directions LLC in February 2010. Johnson's unique experience and skill set helps clients gain valuable insight into the U.S. Department of Agriculture (USDA), Food and Drug Administration (FDA), Centers for Disease Control and Prevention (CDC) and Capitol Hill. Johnson also has strong relationships with thought leaders at NGOs, food associations, and consumer groups, which help Food Directions gain a diverse perspective on food issues. Johnson is regularly tapped to speak at food related conferences and events.
Johnson is a member of the Institute of Food Technologists (IFT), serves on the National Food Policy Conference Advisory Committee, Food Research & Action Center (FRAC) host committee, and on Dunkin Brands' Nutrition Advisory Board and is a Food Cowboy Advisor. Johnson has been quoted in numerous media outlets including USA Today, HealthDay, Supermarket News, Food Navigator USA, AdWeek, Washington Times, Politico, and The Hill, among others.

Christopher A.Taylor, PhD, RDN, LD, FAND
Associate Professor of Medical Dietetics
The Ohio State University
Dr. Chris Taylor is an Associate Professor in the Division of Medical Dietetics as well as the Department of Family Medicine at The Ohio State University. Dr. Taylor was trained by the NIH/NIDDK Clinical Research Center in Phoenix to conduct various dietary intake assessment methodologies and has analyzed primary and secondary data to describe dietary habits and food intake patterns, especially among underserved populations. He has secured institutional, federal and industry funding to evaluate national surveillance data to examine dietary patterns. He has given numerous invited and peer review presentations to share his findings on American dietary patterns. He uses these analyses of dietary patterns to inform interventions targeting patients in the patient centered medical home. Through partnership with a technology firm, Dr. Taylor has developed a method to couple Registered Dietitian Nutritionists in the Patient Centered Medical Neighborhood with Primary Care Providers in the medical home to close the loop of communication to promote improved patient outcomes.

Christina Sherry, PhD, RDN
Medical Science Liaison 
Scientific and Medical Affairs 
Abbott Nutrition
Christina is a Medical Science Liaison for Abbott Nutrition and has expertise in both Adult Therapeutic Nutrition and Prenatal/Lactation Nutrition. Her work has helped develop nutritional supplements for expectant moms and as well as advancements in Similac infant formulas. Today, she also supports adult nutrition conducting clinical research and providing scientific support to areas including critical care nutrition, surgical nutrition (ERAS) and quality improvement initiatives.
Christina joined Abbott in 2010 and she has published 11 peer-reviewed articles in the area of pregnancy, immune regulation, and lactation nutrition. She has two patents pending and is a regular speaker at national and international conferences. Christina has received multiple prestigious awards at Abbott for her pediatric research.

Abbott Nutrition's Provider Statement for Nursing CEs:
Abbott Nutrition Health Institute is an approved provider of continuing nursing education by the California Board of Registered Nursing Provider #CEP 11213.
Abbott Nutrition's Provider Statement for Dietitian CPEUs:
Abbott Nutrition Health Institute (RO002), is a Continuing Professional Education (CPE) Accredited Provider with the Commission on Dietetic Registration (CDR). CDR credentialed practitioners will receive continuing professional education units (CPEUs) for completion of this program/materials. Continuing Professional Education Provider Accreditation does not constitute endorsement by CDR of a provider, program, or materials.
In addition to completing an online evaluation, participants of our programs can provide feedback directly to CDR.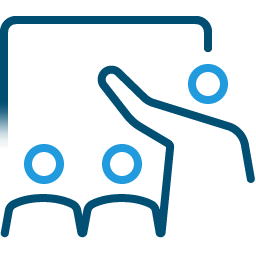 Our Learning Approaches
Traditional and Reflective Learning

attended a live program?
FREQUENTLY ASKED QUESTIONS
continuing medical education courses