Protein Metabolism And Aging
Program Date: 23 February 2017
Publication Date: August 2017
Continuing Education Units: 1.0 Nurse Contact Hours, 1.0 Dietitian CPEU
Course Objectives:
Identify the amount and type of protein that should be recommended to older adults
Analyze the metabolic consequences of decreased and increased dietary protein in older adults
Review dietary protein quality
Describe the effects of protein intake on response to resistance exercise
CDR Level: 2
Suggested Learning Codes: 4060, 2070, 2100, 2110
Performance Indicators: 8.1.1; 8.1.3; 8.1.4
Media Format(s): Video (English)
Run Time: 39 Minutes
Course Instructor Bio(s)
William Evans, PhD, FACSM, FACN
Adjunct Professor of Medicine
Department of Medicine, Division of Geriatrics
Duke University Medical Center Durham, NC
Adjunct Professor of Human Nutrition
Department of Nutritional Science & Toxicology
University of California, Berkeley
William J. Evans, PhD is an Adjunct Professor of Medicine at the Duke University and Adjunct Professor of Human Nutrition in the Department of Nutritional Sciences at the University of California, Berkeley. He has served the Head of the Muscle Discovery Unit at GSK, the Warmack Chair of Nutritional Longevity and director of the Nutrition, Metabolism, and Exercise Laboratory at the University of Arkansas for Medical Sciences; the director of the Noll Physiological Research Center and Professor of Nutrition at the Penn State University and as the Chief of the Human Physiology Laboratory at the U.S.D.A. Human Nutrition Research Center on Aging at Tufts University. He is an honorary member of the Academy of Nutrition and Dietetics. He is the author or co-author of more than 250 publications in scientific journals with an H-index of > 100. Much of his research has examined the functional and metabolic consequences of physical activity in elderly people as well as dietary needs of older men and women. He is the author of the bestseller, Biomarkers: The Ten Determinants of Aging You Can Control (Simon & Schuster) and AstroFit (Simon & Schuster, 2002). His studies have demonstrated the ability of older men and women to improve strength, fitness, and health through exercise, even into the 10th decade of life.

Abbott Nutrition's Provider Statement for Nursing CEs:
Abbott Nutrition Health Institute is an approved provider of continuing nursing education by the California Board of Registered Nursing Provider #CEP 11213.
Abbott Nutrition's Provider Statement for Dietitian CPEUs:
Abbott Nutrition Health Institute (RO002), is a Continuing Professional Education (CPE) Accredited Provider with the Commission on Dietetic Registration (CDR). CDR credentialed practitioners will receive continuing professional education units (CPEUs) for completion of this program/materials. Continuing Professional Education Provider Accreditation does not constitute endorsement by CDR of a provider, program, or materials.
In addition to completing an online evaluation, participants of our programs can provide feedback directly to CDR.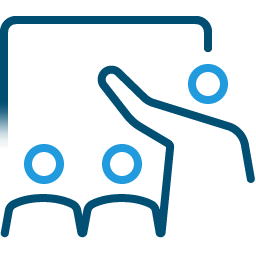 Our Learning Approaches
Traditional and Reflective Learning

attended a live program?
FREQUENTLY ASKED QUESTIONS
continuing medical education courses