One Year in the COVID-19 Pandemic: Key Learnings for Paediatric Dietetic Practice
Program Date: 27 January 2021
Publication Date: 27 May 2021
Continuing Education Units: Nurse Contact: 1.0; Dietitian CPEU: 1.0; Physician CME: 1.0
Course Description:
In this course, the faculty will summarize their learnings from the pandemic; discuss the implications of COVID-19 on paediatric patients and their parents/careers; and explore innovations to support nutrition practice. Originally presented as a live webinar on January 27, 2021.
Course Objectives:
• Relate to the learnings of the last 12 months from dietitians working in different clinical areas. 
• Discuss the implications of COVID-19 on paediatric patients and their parents/careers. 
• Explore innovations to support nutrition practice.
Course Instructor Bio(s)

Lisa Cooke, MA, BSc, RD
Head of Paediatric Dietetics 
Nutrition and SALT 
Bristol Royal Hospital for Children 
Bristol, England, UK
Lisa Cooke is the Head of Paediatric Dietetics, Nutrition, and SALT at the Bristol Royal Hospital for Children. She has worked in tertiary level paediatrics for many years and has led the specialist team in Bristol for 20 years. She has extensive experience and has covered most areas of paediatric dietetics. She has recently studied to be able to perform physical assessments in children to enhance and extend her scope of practice. 
Lisa is passionate about paediatric dietetics and has a strong drive to make clinical research everyday practice for the profession. She has volunteered with charities overseas, supporting good nutritional practice in resource limited settings, published in books, and journals, and presented at academic conferences. She has been part of the course team that delivered the unique Masters in Paediatric Dietetics since its inception. She volunteers as a member of the Paediatric Specialist group of the British Dietetic Association and currently sits as the policy officer on the committee. She currently works clinically within the specialties of Paediatric HIV and Allergy.

Luise Marino, RD, PhD
Clinical Academic Paediatric Dietitian 
Southampton Children's Hospital, 
Southhampton, UK
Luise joined Southampton Children's Hospital in 2013, working clinically in Neonatal / Paediatric Intensive Care and Cardiology. Prior to this, she spent 15 years working in various academic hospitals in South Africa, of which four years were spent as the dietetic manager at Red Cross War Memorial Children's Hospital, in Cape Town. Following her return to the UK, she completed a PhD fellowship at Imperial College London, considering the role of HSP70 and the relationship to glutamine in the critically ill child. Luise has an HEE/NIHR Integrated Clinical Academic Fellowship considering "Growth and nutrition of infants with congenital heart disease: development of guidelines and a digital home monitoring programme to support families". She is the current Chair of the British Dietetic Association Paediatric Cardiology Interest Group. Luise has published several peer-reviewed articles and book chapters and is involved in collaborative research projects within the Children's Hospital. Luise's research interest aims to characterise the nutritional journey of infants and children with acute and chronic disease with a focus on those with congenital heart disease, and how the development of pragmatic pathways for nutritional rehabilitation could promote healthy growth and reduce parental stress.
Rosan Meyer, RD, PhD
Honorary Senior Lecturer 
Imperial College, London, UK 
Visiting Professor 
KU Leuven, Belgium
Rosan Meyer completed her degree in Dietetics in South Africa and specialised in paediatric nutrition in the UK. In 2004, she finished her MSc in Paediatric Nutrition, and in 2008 her PhD at Imperial College London. She was the principal research dietitian at Great Ormond Street Hospital for Children until December 2015, leading a project on the impact of gastrointestinal food allergies on children and their families, after this worked with the allergy team at St. Thomas' Hospital as a research dietitian until 2018. In addition, she has a busy paediatric dietetic practice specialising in food allergy, feeding difficulties, and faltering growth in London. 
Rosan has published numerous articles, and book chapters and has recently co-authored the DPG pocket guide on paediatric nutrition. Her specialist interest lies in paediatric food allergy, feeding difficulties, and growth and she has also taken a keen interest in the environmental sustainability of paediatric nutrition advice. 
She is currently module leader for the Food Hypersensitivity Module that forms part of the MSc in Allergy at Imperial College London and is an honorary senior lecturer in paediatrics at the same university. She is also a visiting Professor at KU Leuven, Belgium, on their MSc on Deglutology (swallow disorders). She is the chair of the European Section of the International Network for Diet and Allergy, secretary of the Allied Health and Primary Care Section of EAACI, and member of several EAACI task forces on food allergy.
Rebecca Stevenson, MSc, RD
Medical Director, UK 
Abbott Nutrition International 
Maidenhead, UK
Rebecca Stevenson has served as the medical director of Abbott Nutrition UK since 2016. She has an extensive background in clinical nutrition working as a paediatric dietitian specializing in liver, gastroenterology, neonatology, allergy, and general paediatrics at Kings College Hospital Trust, Royal London Hospital, UCLH. Additionally, she has worked as a paediatrric and sports nutrition dietitian in her own consultant business for several years prior to joining Abbott. She is a member of the British Dietetic Association and served on the research committee for 3 years. Volunteer experience includes serving as a volunteer mentor for Chiva Africa as a member of the interdisciplinary team in Zwa-Zulu Natal, South Africa for HIV anti-retroviral rollout education.

ANHI partners with CMEfy, a platform that directs learners to reflect at the point of inspiration, or the Internet Point of Care Learning. CMEfy does not endorse, support or amplify ANHI content or learning experiences.
Dietitians, Nurses, Nurse Practitioners, Physicians, Physician Associates, Pharmacists, and other select healthcare professionals may earn up to 1.0 (0.5 CME/CE credit per reflection) per program at the point of care via the self-directed accredited activity experience, not for viewing, attending, or consuming ANHI content.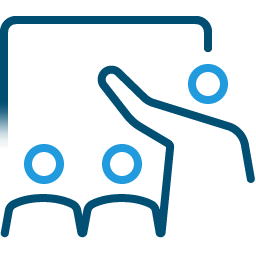 Our Learning Approaches
Traditional and Reflective Learning

attended a live program?
FREQUENTLY ASKED QUESTIONS
continuing medical education courses