The Future of Muscle in Immunity
Program Date: 22 June 2021
Publication Date: 13 December 2021
Continuing Education Units: Nurse Contact: 1.0; Dietitian CPEU: 1.0; Physician CME: 1.0
Course Description:
In this course, Tobias Ruck, MD will review how muscle interacts with immunity in adults; discuss the impact of low muscle mass on immunity outcomes; and describe how clinicians can assess muscle mass and immunity in patients. Originally presented at the 119th Abbott Nutrition Research Conference as a live webinar on June 22, 2021.
Course Objectives:
• Review how muscle interacts with immunity in adults. 
• Illustrate the impact of low muscle mass on immunity outcomes. 
• Describe how clinicians can assess muscle mass and immunity in patients.
Course Instructor Bio(s)

Tobias Ruck, MD
Deputy Director, Department of Neurology 
Heinrich Heine University 
Düsseldorf, Germany
Dr Tobias Ruck is deputy director of the Department of Neurology at Heinrich Heine University Düsseldorf in Germany, where he is also head of a research group for experimental neuroimmunology. He received his Doctor of Medicine degree at the University of Würzburg and completed a postdoctoral lecture qualification in clinical neurology (habilitation) at the University of Münster. In addition, he is currently pursuing a Master of Health Business Administration degree at Universität Erlangen-Nürnberg. Dr Ruck's main research interests include ion channel-mediated regulation of immune cell functions and neuronal and skeletal muscle damage; regulation of immune cell migration into the central and peripheral nervous system; therapeutic translation of immunophysiological concepts; and therapeutically relevant immune signatures instructing personalized medicine. He is an ad hoc reviewer for BMC Neurology, Journal of Neurology, Neurosurgery and Psychiatry, Neurology, Multiple Sclerosis Journal, New England Journal of Medicine, and Nature Reviews Rheumatology, among others, and has authored or co-authored more than 90 publications in peer-reviewed international journals and 2 book chapters.

Carla Prado, PhD, RD
Professor and Campus Alberta Innovate Program (CAIP) 
Chair in Nutrition, Food and Health 
Director, Human Nutrition Research Unit, Division of Human Nutrition 
University of Alberta 
Edmonton, Alberta, Canada
Dr Carla Prado is a Professor at the University of Alberta in Canada and a Campus Alberta Innovate Program (CAIP) chair in Nutrition, Food and Health. She is also the Director of the Human Nutrition Research Unit. Dr Prado received her PhD in human nutrition and metabolism from the University of Alberta, Canada, and is a Registered Dietitian in both Canada and Brazil. Dr Prado is an expert in assessing nutritional status through the precise measurement of body composition and energy metabolism. The focus of her current research program is to develop targeted nutrition interventions for the prevention and treatment of low muscle mass in patients with diverse conditions. She is currently the principal investigator for four randomized controlled trials investigating the impact of nutrition intervention on body composition and health. She is currently a member of the GLIM Body Composition Working Group, and the Sarcopenic Obesity Consensus Group (ESPEN/EASO). She is an Associate Editor of Clinical Nutrition and the Journal of Cachexia, Sarcopenia and Muscle.

ANHI partners with CMEfy, a platform that directs learners to reflect at the point of inspiration, or the Internet Point of Care Learning. CMEfy does not endorse, support or amplify ANHI content or learning experiences.
Dietitians, Nurses, Nurse Practitioners, Physicians, Physician Associates, Pharmacists, and other select healthcare professionals may earn up to 1.0 (0.5 CME/CE credit per reflection) per program at the point of care via the self-directed accredited activity experience, not for viewing, attending, or consuming ANHI content.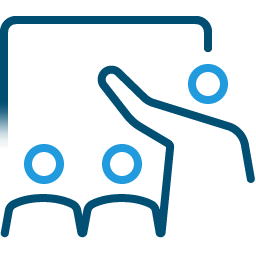 Our Learning Approaches
Traditional and Reflective Learning

attended a live program?
FREQUENTLY ASKED QUESTIONS
continuing medical education courses