Care and Complications: Nutrition Support for the Hospitalized Adult COVID-19 Patient
Program Date: 14 April 2021
Publication Date: 30 September 2021
Continuing Education Units: Nurse Contact: 1.0; Dietitian CPEU: 1.0
Course Description:
In this course, you'll review current evidence and guidelines on enteral nutrition for COVID-19 patients; describe optimal tube feeding placement and initiation; and discuss the clinician perspective on tube feeding the prone patient. Originally presented as a live webinar on April 14, 2021.
Course Objectives:
• Review current evidence and guidelines on enteral nutrition for COVID-19 patients. 
• Describe optimal tube feeding placement and initiation. 
• Discuss the clinician perspective on tube feeding the prone patient.
CDR Level: 2
Performance Indicators: 4.1.2, 4.1.6, 8.1.1, 8.2.3
Run Time: 45
Course Instructor Bio(s)

Jan Powers, PhD, RN, CCRN, CCNS, NE-BC, FCCM
Director, Nursing Research & Professional Practice 
Parkview Health 
Fort Wayne, IN, USA
Jan Powers currently serves as the Director of Nursing Research and Professional Practice at Parkview Health System. This role includes accountability for professional practice and research development for 9 hospital systems. Responsibilities include oversight of policy and procedures, mentor clinical nurse specialists, advancing nursing practice and ongoing development of research and evidence-based practice. Jan is also part time faculty at IU School of Nursing Graduate Program. 
Jan has been a nurse for 35 years in various roles related to critical care and trauma and worked as a CNS over 20 years primarily focused on implementation of research and evidence-based practices to improve patient outcomes. Jan received her BSN, MSN and PhD all from Indiana University School of Nursing. She has conducted many research studies related to nursing practice with a primary focus on improving patient outcomes through the advancement of nursing practice. Primary focus areas related to pulmonary, trauma, pressure injuries and nutrition. Jan is passionate about inspiring nurses to own their practice with an emphasis on the implementation of evidence-based practices. She has published over 70 journal articles and book chapters and has given numerous presentations related to a wide variety of areas within nursing practice.

Beth Besecker, MD, MBA, SSGB
Director, Medical Affairs Adult Nutrition 
Abbott Nutrition
Columbus, OH, USA
Beth Besecker is the Director of Medical Affairs, Adult Nutrition for Abbott Nutrition. She is a board certified in pulmonology, critical care and sleep medicine. Dr Besecker worked as an Assistant Professor of Internal Medicine as a pulmonary critical care attending physician at the Ohio State University Wexner Medical Center form 2009-2020. Additionally, she received an MBA from The Ohio State University Fisher College of Business in 2019. She is six sigma green belt certified and served as a Team Lead and Coach for the Quality Improvements Project Committee at Ohio State for multiple years. Her continuous quality improvement focus is on improving healthcare quality and efficiency in a manner which lessens physician burden. Research interests of Dr Besecker include the role of zinc on immunity in septic patients, participation in the TOP UP Study of supplemental parenteral nutrition in over and underweight critically ill patients, and multiple studies on the treatment of acute respiratory distress syndrome.

Abbott Nutrition's Provider Statement for Nursing CEs:
Abbott Nutrition Health Institute is an approved provider of continuing nursing education by the California Board of Registered Nursing Provider #CEP 11213.
Abbott Nutrition's Provider Statement for Dietitian CPEUs:
Abbott Nutrition Health Institute (RO002), is a Continuing Professional Education (CPE) Accredited Provider with the Commission on Dietetic Registration (CDR). CDR credentialed practitioners will receive continuing professional education units (CPEUs) for completion of this program/materials. Continuing Professional Education Provider Accreditation does not constitute endorsement by CDR of a provider, program, or materials.
In addition to completing an online evaluation, participants of our programs can provide feedback directly to CDR.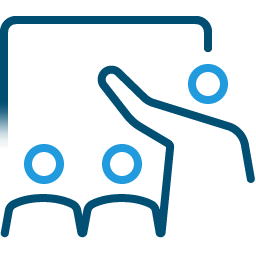 Our Learning Approaches
Traditional and Reflective Learning

attended a live program?
FREQUENTLY ASKED QUESTIONS
continuing medical education courses