Beyond Height and Weight: Clinical Implications of Mid-Upper Arm Circumference and Its Use in Children with Disabilities
Program Date: 22 March 2022
Publication Date: 16 June 2022
Continuing Education Units: Nurse Contact: 0.75; Dietitian CPEU: 0.75
Course Description:
In this course, the faculty will discuss why and how MUAC measurements were initiated in clinical practice; describe best practice strategies for dietitians and others utilizing MUAC measurements; and review challenges of anthropometry in disability practice. Originally presented as a live webinar on March 22, 2022.
Course Objectives:
• Discuss why and how MUAC measurements were initiated in clinical practice. 
• Describe best practice strategies for dietitians and others utilizing MUAC in assessments. 
• Review challenges of anthropometry in disability practice. 
• Recognize potential application of MUAC measurements as a tool for nutrition assessment.
CDR Level: 2
Performance Indicators: 8.1.2, 8.2.3, 10.1.2
Run Time: 44
Course Instructor Bio(s)

Karen Stephens, MS, RD, CSP, LD
Assistant Director, Nutrition Services 
Children's Mercy Kansas City 
Kansas City, MO, USA
Karen Stephens is a Registered Dietitian who has spent over 30 years providing clinical nutrition services for adults and children. She has extensive expertise in paediatrics, malnutrition, weight management/bariatrics, cardiac rehab, and enteral nutrition. As former Assistant Director of Nutrition at Children's Mercy Hospital in Kansas City, United States, she directed Outpatient Nutrition Services and oversaw program development. Among her contributions were overseeing initiatives to improve identification and intervention for patients with severe malnutrition, improving clinical treatment for Avoidant Restrictive Food Intake Disorder patients, and implementing MUAC in clinical practice for all patients. In research, she led studies comparing MUAC and BMI z-scores and in evaluating clinical usefulness of MUAC z-score tapes. Previously, she developed several weight management curricula for hospitals and other organizations. She spent 10 years teaching adult weight management groups as well as providing individual consultations.

Aimee McLeod, B Nutr Diet (Hons I)
Accredited Practising Dietitian 
Director, Aim High Therapy Services 
Newcastle, Australia
Aimee McLeod is an Accredited Practicing Dietitian who began her dietetic career by working in research and has published two original research articles. In 2012, Aimee began working for state government disability services in NSW, providing dietetics for people with a disability, in both large residential centers, group homes and private home residences. Aimee has also worked for two large NGO's providing disability services and started her own private practice, Aim High Nutrition, in 2015 in Newcastle, Australia. Aim High Nutrition was rebranded to Aim High Therapy Services in July 2020 and is a registered NDIS provider. Aimee has experience working in the NDIS environment since its inception of trial phase in the Hunter region in 2013. Aimee now employs 6 dietitians (4 FTE) in her business providing only disability services. She also provides clinical supervision and mentoring for other APDs.

Abbott Nutrition's Provider Statement for Nursing CEs:
Abbott Nutrition Health Institute is an approved provider of continuing nursing education by the California Board of Registered Nursing Provider #CEP 11213.
Abbott Nutrition's Provider Statement for Dietitian CPEUs:
Abbott Nutrition Health Institute (RO002), is a Continuing Professional Education (CPE) Accredited Provider with the Commission on Dietetic Registration (CDR). CDR credentialed practitioners will receive continuing professional education units (CPEUs) for completion of this program/materials. Continuing Professional Education Provider Accreditation does not constitute endorsement by CDR of a provider, program, or materials.
In addition to completing an online evaluation, participants of our programs can provide feedback directly to CDR.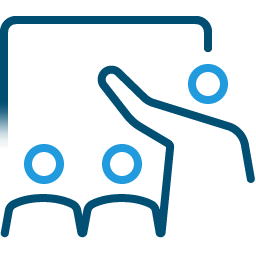 Our Learning Approaches
Traditional and Reflective Learning

attended a live program?
FREQUENTLY ASKED QUESTIONS
continuing medical education courses