Optimizing Nutrition Care of the COVID-19 Patient: Global Guidance and Perspective from the Front Lines
Program Date: 11 November 2020
Publication Date: 9 February 2021
Continuing Education Units: Nurse Contact: 1.5; Dietitian CPEU: 1.5
Course Description:
In this course, you'll review current, evidence-based global guidance for nutrition assessment and treatment of the patient with COVID-19; describe successful implementation of nutrition protocols for COVID-19 patients in the acute care setting; and discuss the role of quality improvement in the post-acute care setting with COVID-19 patients. Originally presented at the 2020 Virtual Food and Nutrition Conference and Expo (FNCE).
Course Objectives:
•Review current, evidence-based global guidance for nutrition assessment and treatment of the patient with COVID-19.
•Describe successful implementation of nutrition protocols for COVID-19 patients in the acute care setting.
•Discuss the role of quality improvement in the post-acute care setting with COVID-19 patients.
CDR Level: 2
Performance Indicators: 4.1.2, 6.1.2, 7.1.2, 10.2.1
Run Time: 85
Course Instructor Bio(s)

Stephen McClave, MD
Division of Gastroenterology, Hepatology and Nutrition
University of Louisville, School of Medicine
Louisville, KY, USA
Stephen A. McClave, MD, is a native of Columbus, OH, though he has lived in Louisville, KY, and has been on faculty at the University of Louisville School of Medicine for over 30 years, where he is Professor of Medicine and Director of Clinical Nutrition. Dr McClave received his medical degree from Ohio State University in Columbus and completed his residency in internal medicine and Chief Residency at the Medical University of South Carolina in Charleston. He then finished his fellowship in gastroenterology at the University of South Florida in Tampa. He served previously as Director of the Nutrition Curriculum for the Introduction to Clinical Medicine Course for the first- and second-year medical students.
Dr McClave also was a member of the American Society for Gastrointestinal Endoscopy (ASGE) Task Force for Enteral Nutrition and the past chairman of the ASGE Special Interest Group in Enteral Nutrition; co-chairman and lead author for the 2016 American College of Gastroenterology Guidelines on Nutrition Therapy of the Adult Hospitalized Patient; and awarded the Honorary Lifetime Membership of the Academy of Nutrition and Dietetics. He is a Fellow of ASPEN, ASGE, American College of Nutrition, and American Gastroenterological Association.
An author to over 220 articles, 40 textbook chapters, and numerous medical educational videotapes, Dr McClave's research interests and clinical expertise involve critical care nutrition and early enteral feeding, guidelines for nutrition therapy, endoscopic techniques for enteral access, and indirect calorimetry. Along with numerous academic interests, Dr McClave has a healthy appreciation for several outdoor sports, including running, biking, boating, or skiing, depending on where his travel takes him.

Monica Salinas, MS, RD, CDN, CNSC
Clinical Dietitian, Critical Care Team
Montefiore Health System
New York, NY, USA
Monica is a Registered Dietitian at the Moses Division of Montefiore Medical Center in New York, an 850-bed, teaching hospital of Albert Einstein Medical School. Monica has been the Nutrition Support Clinician responsible solely for the Medical, Surgical and Cardiothoracic ICUs for the past four years.
She received a Master in Science in Clinical Nutrition from New York University. She received her Bachelor of Science in Nutrition and Wellness from Tecnologico de Monterrey in Monterrey, Mexico, where she was able to participate in internship rotations abroad at Texas Children's Hospital in Houston and Hospital Sao Lucas in Porto Alegre, Brazil. Her Dietetic Internship was completed through New York University at Montefiore Medical Center in the Bronx, NY.
As the critical care dietitian, Monica works closely with the Critical Care team, and participates in monthly QI meetings to help improve nutrition support delivery and practice. She provides teaching and training on nutrition support and Medical Nutrition Therapy to Montefiore's physicians. She facilitates the Nutrition Support lectures to the Internal Medicine House Staff and Pulmonary Medicine Fellows, as part of their Core Curriculum education program. Additionally, she precepts NYU dietetic interns during their critical care rotations and mentors all new hires in critical care, enteral and parenteral nutrition. During the COVID 19 pandemic, Monica helped develop a Nutrition Therapy protocol using ASPEN and SCCM guidelines that helped dietitians across Montefiore Health System with the nutritional management of patients with COVID 19.
Aside from her job as the critical care dietitian at Montefiore Medical Center, she is an adjunct professor of the master's program in Clinical Nutrition and the Dietetic Internship at New York University, where she teaches the course on Medical Nutrition Therapy.

Rya Clark, RDN, LD, CNSC
Clinical Nutrition Manager, Inpatient Specialty Rehab
Memorial Hermann Rehabilitation Hospital
Houston, TX, USA
Rya is the Clinical Nutrition Manager of 2 rehabilitation hospitals in the TIRR Memorial Hermann network, and 1 skilled nursing/long-term care facility. Prior to stepping into the post-acute setting in a leadership role, Rya spent a decade as a clinician specializing in heart and lung transplant, burn, trauma, general surgery, and short bowel syndrome. Professionally, Rya has a passion for driving continuous performance and process improvement of clinical care and operations to drive high quality, compassionate, streamlined, efficient care.

Ainsley Malone, RDN, LD, CNSC, FAND, FASPEN
Director, Nutrition Support Team
Mt Carmel West Hospital
Columbus, OH, USA
Ainsley Malone is currently a Clinical Practice Specialist with the American Society for Parenteral and Enteral Nutrition (ASPEN), an organization dedicated to safe, efficacious and high-quality nutrition care. Ms. Malone is also a Dietitian member of the Nutrition Support Team at Mt. Carmel West Hospital in Columbus, Ohio where she is involved in the management of patients requiring enteral and parenteral nutrition. Ainsley is a leader in malnutrition related activities both nationally and internationally. She served as a representative to the Academy of Nutrition and Dietetics Malnutrition Workgroup and also served on the 2017- 2018 Ohio Malnutrition Prevention Commission whose charge was to address malnutrition in the older adult across all Ohio settings.

Abbott Nutrition's Provider Statement for Nursing CEs:
Abbott Nutrition Health Institute is an approved provider of continuing nursing education by the California Board of Registered Nursing Provider #CEP 11213.
Abbott Nutrition's Provider Statement for Dietitian CPEUs:
Abbott Nutrition Health Institute (RO002), is a Continuing Professional Education (CPE) Accredited Provider with the Commission on Dietetic Registration (CDR). CDR credentialed practitioners will receive continuing professional education units (CPEUs) for completion of this program/materials. Continuing Professional Education Provider Accreditation does not constitute endorsement by CDR of a provider, program, or materials.
In addition to completing an online evaluation, participants of our programs can provide feedback directly to CDR.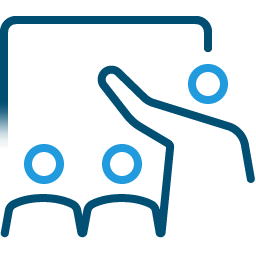 Our Learning Approaches
Traditional and Reflective Learning

attended a live program?
FREQUENTLY ASKED QUESTIONS
continuing medical education courses