Pediatric Food Allergies
Program Date: 21 August 2019
Publication Date: 8 October 2019
Continuing Education Units: Nurse Contact: 1.0; Dietitian CPEU: 1.0; Physician CME: 1.0
Course Description:
In this course, David Stukus, MD will review allergy terminology and the allergy-focused history; identify strategies for the prevention of food allergy development; and analyze several common food allergy myths and misconceptions.
Course Objectives:
Part 1: 
• Differentiate between IgE and non-IgE mediated food allergies. 
• Review the key components of an allergy-focused history. 
• Describe how HCPs can support patients/families diagnosed with food allergy. 
Part 2: 
• Review the data surrounding the early introduction of allergenic foods. 
• Recognize the barriers surrounding the implementation of new guidelines. 
• Apply concise clear messaging to parents regarding early introduction. 
Part 3: 
• Compare and contrast food allergy myths versus facts. 
• Explain the risks of misinformation with patients and families.
Course Instructor Bio(s)

David Stukus, MD
Associate Professor of Pediatrics 
Associate Director, Pediatric Allergy & Immunology Fellowship Program 
Director of Quality Improvement, Division of Allergy and Immunology 
Nationwide Children's Hospital 
The Ohio State University College of Medicine 
Columbus, OH, USA
Dr David Stukus is an Assistant Professor of Pediatrics in the Section of Allergy/Immunology at Nationwide Children's Hospital. In addition to his interest in caring for families with asthma, food allergies, and other allergic conditions, he also serves as the Director of the Hospital's Complex Asthma Clinic. His clinical and research interests focus on asthma and food allergies, especially improving education and adherence for patients and families. As part of his research, Dr Stukus has created novel technology and educational tools using mobile health apps to improve the care of patients, for which he was recognized with the Nationwide Children's Hospital Department of Pediatrics Junior Faculty Award for Innovation in November 2013. 
Dr Stukus has been an active member of the medical advisory team for Kids with Food Allergies since 2009 and was elected to the Board of Directors for the Asthma and Allergy Foundation of America in 2014. Dr Stukus obtained his medical degree at the University of Pittsburgh School of Medicine. He completed his residency at Nationwide Children's Hospital and his fellowship at the Cleveland Clinic. He is Board Certified in Allergy/Immunology and Pediatrics.

ANHI partners with CMEfy, a platform that directs learners to reflect at the point of inspiration, or the Internet Point of Care Learning. CMEfy does not endorse, support or amplify ANHI content or learning experiences.
Dietitians, Nurses, Nurse Practitioners, Physicians, Physician Associates, Pharmacists, and other select healthcare professionals may earn up to 1.0 (0.5 CME/CE credit per reflection) per program at the point of care via the self-directed accredited activity experience, not for viewing, attending, or consuming ANHI content.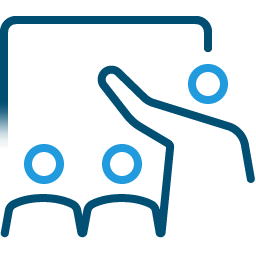 Our Learning Approaches
Traditional and Reflective Learning

attended a live program?
FREQUENTLY ASKED QUESTIONS
continuing medical education courses