The Intersection of Infant Nutrition and Immunity: Learnings From the Pandemic
Program Date: 31 March 2023
Publication Date: 3 August 2023
Continuing Education Units: Nurse Contact: 1.0; Dietitian CPEU: 1.0
Course Description:
In this course, the faculty will identify the potential impact of COVID-19 infection during pregnancy on early-life immune programming; evaluate the role of infection control measures and their influence on intestinal flora and pediatric health outcomes; review preclinical research on human milk oligosaccharides and immunity; and more! Originally presented live presented at the 10th International Conference on Nutrition and Growth.
Course Objectives:
• Identify the potential impact of COVID-19 infection during pregnancy on early life immune programming. 
• Evaluate the role of infection control measures and their influence on intestinal flora and pediatric health outcomes. 
• Discuss the early life immune development, the role of the GI tract, and the importance of nutrition for immune development. 
• Review the importance of nutrition and specific nutrients to support immune maturation and a healthy immune system. 
• Discuss human milk composition and the role of human milk oligosaccharides (HMOs). 
• Review preclinical research on HMOs and immunity.
CDR Level: 2
Performance Indicators: 4.2.6, 8.1.5, 8.2.1
Run Time: 65
Course Instructor Bio(s)

Joann Romano-Keeler, MD, MS
Assistant Professor of Pediatrics 
University of Illinois at Chicago 
Chicago, IL, USA
Dr Joann Romano-Keeler is a Neonatologist in the Department of Pediatrics at UI Health. Dr Romano-Keeler's clinical and research interests include neonatal nutrition and the optimization of growth during the newborn period. She is the Director of the Neonatal Transport Team, and she also cares for patients and their families in the NICU neurodevelopmental follow-up clinic.

Philip Calder, PhD
Professor of Nutritional Immunology 
University of Southampton 
Southampton, United Kingdom
Professor Philip Calder, BSc (Hons), PhD, DPhil, RNutr, FSB, FAfN is the Professor of Nutritional Immunology at the University of Southampton. His work aims to understand how nutrition affects the functioning of the human body. Better understanding is key to developing strategies to improve human health and well-being, to lower disease risk, and to treat nutrition-related illnesses. Professor Calder has broad research interests in nutritional modulation of immunity, inflammation, and cardiometabolic disease risk. Much of his work has been devoted to exploring the metabolism and functionality of fatty acids with an emphasis on the roles of omega-3 fatty acids. He has over 500 scientific publications and he is listed by Thomson Reuters as a Highly Cited Researcher. 
Professor Calder has been awarded numerous awards including the American Oil Chemists' Society Ralph Holman Lifetime Achievement Award (2015), the British Association for Parenteral and Enteral Nutrition Pennington Lecture (2015), the British Nutrition Foundation Prize (2015) and the Danone International Prize in Nutrition (2016). He has served on many committees of professional societies and was for three years President of the International Society for the Study of Fatty Acids and Lipids (2009-2012). He is currently Chair of the Scientific Committee of the European Society for Clinical Nutrition and Metabolism (ESPEN) and President of the Nutrition Society. He was Editor-in-Chief of the British Journal of Nutrition from 2006 to 2013 and he currently is an Associate Editor of Clinical Science, of Journal of Nutrition, of Clinical Nutrition, of Lipids, and of Nutrition Research.

David Hill, PhD
Senior Research Scientist 
Abbott Nutrition 
Columbus, OH, USA
David Hill, PhD is a Research Scientist for the Gut and Immunity Platform within the Nutrition Division at Abbott. In his present role, he designs and conducts early stage discovery research to develop nutrition solutions to improve health and wellness in both children and adults and contributes to the translation of these discoveries into innovative new products. He earned a BS in Biological Sciences at Kent State University and completed a PhD in Molecular Medicine at the Cleveland Clinic Lerner College of Medicine of Case Western Reserve University. After graduation, he completed further training in human milk biochemistry and studied the role of human milk oligosaccharides in immunity at Boston College. Prior to joining Abbott in 2019, he worked at the University of Michigan, ultimately earning an appointment as a Research Assistant Professor for his research developing stem cell-derived models of host-microbial interaction in infant gastrointestinal development. He has written more than 25 peer-reviewed scientific manuscripts and book chapters, has taught Immunology, Evolutionary Biology, and Statistics at the undergraduate and graduate level, and has mentored dozens of MS, PhD, and MD students in research.

Abbott Nutrition's Provider Statement for Nursing CEs:
Abbott Nutrition Health Institute is an approved provider of continuing nursing education by the California Board of Registered Nursing Provider #CEP 11213.
Abbott Nutrition's Provider Statement for Dietitian CPEUs:
Abbott Nutrition Health Institute (RO002), is a Continuing Professional Education (CPE) Accredited Provider with the Commission on Dietetic Registration (CDR). CDR credentialed practitioners will receive continuing professional education units (CPEUs) for completion of this program/materials. Continuing Professional Education Provider Accreditation does not constitute endorsement by CDR of a provider, program, or materials.
In addition to completing an online evaluation, participants of our programs can provide feedback directly to CDR.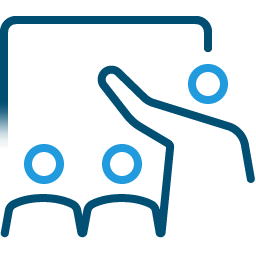 Our Learning Approaches
Traditional and Reflective Learning

attended a live program?
FREQUENTLY ASKED QUESTIONS
continuing medical education courses