How Human Milk Oligosaccharides and the Microbiome Communicate with the Gut and Brain
Program Date: 4 June 2021
Publication Date: 30 September 2021
Continuing Education Units: Nurse Contact: 1.0; Dietitian CPEU: 1.0
Course Description:
In this course, you'll describe the role of the microbiome in early life; review the role of neutral and acidic HMOs in infant immune system and cognitive development; and highlight the nutrition connections amongst the infant immune system and cognitive development. Originally presented as a live webinar on June 4, 2021 at the 6th World Congress of Pediatric Gastroenterology, Hepatology and Nutrition.
Course Objectives:
• Describe the role of the microbiome in early life and the development of the immune system. 
• Review the role of neutral and acidic HMOs in infant immune system and cognitive development. 
• Highlight the nutrition connections amongst infant immune system and cognitive development.
CDR Level: 2
Performance Indicators: 4.2.6, 8.1.2, 8.1.5
Run Time: 58
Course Instructor Bio(s)
B. Brett Finlay, OC, OBC, FRSC, FCAHS
PWIAS Distinguished Professor
Michael Smith Labs University of British Columbia 
Vancouver, BC, Canada
Dr B. Brett Finlay is a Professor in the Michael Smith Laboratories, and the Departments of Biochemistry and Molecular Biology, and Microbiology and Immunology at the University of British Columbia. He obtained a BSc (Honors) in Biochemistry at the University of Alberta, where he also did his PhD (1986) in Biochemistry under Dr William Paranchych, studying F-like plasmid conjugation. His post-doctoral studies were performed with Dr Stanley Falkow at the Department of Medical Microbiology and Immunology at Stanford University School of Medicine, where he studied Salmonella invasion into host cells. In 1989, he joined UBC as an Assistant Professor in the Biotechnology Laboratory. Dr Finlay's research interests are focused on host-microbe interactions, at the molecular level. By combining cell biology with microbiology, he has been at the forefront of the field called Cellular Microbiology, making several fundamental discoveries in this area, and publishing over 543 papers (h index=142). His laboratory studies several pathogenic bacteria, including Salmonella and pathogenic E. coli, and more recently microbiota. He is well recognized internationally for his work, and has won several prestigious awards including the E.W.R. Steacie Prize, the CSM Fisher Scientific Award, CSM Roche Award, a MRC Scientist, five Howard Hughes International Research Scholar Awards, a CIHR Distinguished Investigator, BC Biotech Innovation Award, the Michael Smith Health Research Prize, the IDSA Squibb award, the Jacob Biely Prize, the prestigious Canadian Killam Health Sciences Prize, the Flavelle Medal of the Royal Society, the Queen Elizabeth II Diamond Jubilee Medal, the Prix Galien, is a Fellow of the Royal Society of Canada and the Canadian Academy of Health Sciences, is a Member of the German National Academy of Sciences, the European Union Academy of Sciences, the American Academy of Microbiology, Chair d'État, Collège de France and is the UBC Peter Wall Distinguished Professor. He is an Officer of the Order of Canada and Order of British Columbia and inducted into the Canadian Medical Hall of Fame. He is a cofounder of Inimex Pharmaceuticals, Inc. and Microbiome Insights, scientific cofounder of Vedanta Pharmaceuticals and CommenSe, Director of the SARS Accelerated Vaccine Initiative, and Founding Director and Senior Fellow of CIFAR's Microbes and Humans. He is also the co-author of the books Let Them Eat Dirt and The Whole Body Microbiome.

Lisa Renzi, PhD
Associate Professor 
The University of Georgia 
Athens, GA, USA
Dr Lisa Renzi-Hammond earned her BS, MS and doctorate degrees in from the Psychology Department at the University of Georgia. While at the University of Georgia, Dr Renzi-Hammond specialized in visual neuroscience and neurological development and studied the ways in which implementing behavioral changes influences vision system function, as well as risk for acquired ocular and neurological diseases. Dr Renzi-Hammond completed her postdoctoral fellowship at the University of Texas at Austin as a member of three different disciplinary groups: the Center for Perceptual Systems, the Institute for Neuroscience, and the Nutrition Sciences Department. Dr Renzi-Hammond also served as a visiting scientist at the Jean Mayer USDA Human Nutrition Center on Ageing at Tufts University in Boston, MA, where she was a member of the Carotenoids in Health Laboratory. 
Following her graduate and post-graduate training, Dr Renzi-Hammond returned to the University of Georgia as faculty, where she founded the Human Biofactors Laboratory and published numerous peer-reviewed articles and book chapters on the topic of nutrition and visual and neurological function. She has presented this research in a wide variety of national and international venues. She is currently an Assistant Professor in the UGA College of Public Health, the UGA Neuroscience Program, and is adjunct faculty in the Behavioral and Brain Sciences Program in the Department of Psychology.

Abbott Nutrition's Provider Statement for Nursing CEs:
Abbott Nutrition Health Institute is an approved provider of continuing nursing education by the California Board of Registered Nursing Provider #CEP 11213.
Abbott Nutrition's Provider Statement for Dietitian CPEUs:
Abbott Nutrition Health Institute (RO002), is a Continuing Professional Education (CPE) Accredited Provider with the Commission on Dietetic Registration (CDR). CDR credentialed practitioners will receive continuing professional education units (CPEUs) for completion of this program/materials. Continuing Professional Education Provider Accreditation does not constitute endorsement by CDR of a provider, program, or materials.
In addition to completing an online evaluation, participants of our programs can provide feedback directly to CDR.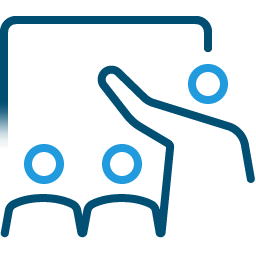 Our Learning Approaches
Traditional and Reflective Learning

attended a live program?
FREQUENTLY ASKED QUESTIONS
continuing medical education courses