NUTRITION AND CHRONIC WOUND HEALING MANAGEMENT SERIES
Publication Date: 5 June 2023
Course Description:
Review current evidence-based nutrition assessment and best practices in identifying nutrition gaps as they relate to chronic wounds.

CONTINUING EDUCATION UNITS : Up to Nurse Contact: 3.0; Dietitian CPEU: 3.0
VIDEOS
Good Nutrition for Wound Healing
This video serves as an educational tool to help teach patients how good nutrition can support wound healing among patients with diabetes.
Case Study: A Collaborative Approach to Addressing Non-Healing Wounds
In this video, the presenters will explore the collaborative role of dietitians in wound care prevention and treatment. Here we identify key indicators that nutrition requirements are being met to support wound healing and discuss opportunities for collaboration between multidisciplinary teams using a case study approach.
Course Instructor Bio(s)

DOT WEIR, RN, CWON, CWS
Clinician, Saratoga Hospital
Center for Wound Healing & Hyperbaric Medicine
Saratoga Springs, NY, USA
Dot has been a registered nurse for many years and has practiced ostomy and wound care since 1980. She is board certified by the Wound, Ostomy, and Continence Nursing Certification Board (WOCNCB) and the American Board of Wound Management (ABWM). She spent most of her career practicing in Orlando, Florida, and in 2017 she relocated to New York and currently is a clinician and educator for The Saratoga Hospital Center for Wound Healing and Hyperbaric Medicine. Among many professional activities, Doe is the Co-Chair of the Symposium on Advanced Wound Care, on the faculty of the Wound Certification Prep Course, and is the Secretary for the International Wound Infection Institute. Dot speaks nationally and internationally on all aspects of wound management, and has authored, and co-authored many journal articles and 12 book chapters.

MARY LITCHFORD, PHD, RDN, LDN
President, CASE Software and Books
Greensboro, NC, USA
Mary Litchford, PhD, RDN, LDN, is an internationally recognized speaker, author, and consultant to health care providers. She received her PhD in human nutrition from the University of North Carolina[1]Greensboro. Her professional career has included clinical practice, university teaching, and business consulting. She is President of CASE Software & Books, a professional and educational resource company. She is a member of the Academy of Nutrition & Dietetics and served on the Academy's Evidence Analysis Work Groups on wound care and hydration. In 2018, she received the Academy's Excellence in Practice Award for Consultation and Business Practice. She is the Past President of the National Pressure Injury Advisory Panel and served as one of the NPIAP representatives on the 2019 International Clinical Practice Guideline Governance Group.

Abbott Nutrition's Provider Statement for Nursing CEs:
Abbott Nutrition Health Institute is an approved provider of continuing nursing education by the California Board of Registered Nursing Provider #CEP 11213.
Abbott Nutrition's Provider Statement for Dietitian CPEUs:
Abbott Nutrition Health Institute (RO002), is a Continuing Professional Education (CPE) Accredited Provider with the Commission on Dietetic Registration (CDR). CDR credentialed practitioners will receive continuing professional education units (CPEUs) for completion of this program/materials. Continuing Professional Education Provider Accreditation does not constitute endorsement by CDR of a provider, program, or materials.
In addition to completing an online evaluation, participants of our programs can provide feedback directly to CDR.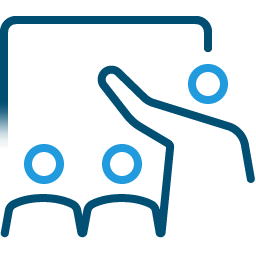 Our Learning Approaches
Traditional and Reflective Learning

attended a live program?
FREQUENTLY ASKED QUESTIONS
continuing medical education courses