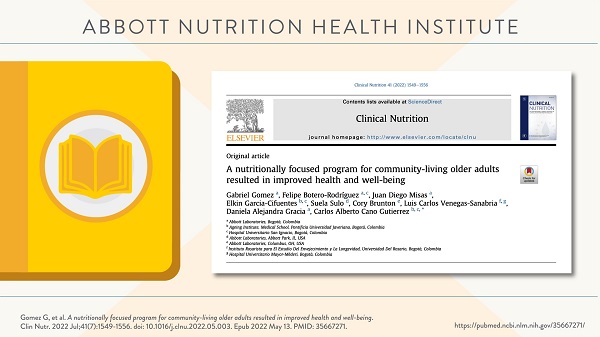 Benefit of a Nutrition Focused Program in Community-Dwelling Older Adults
For older, community-living adults, nutrition care, which includes nutrition screening, dietary and exercise counseling, and oral nutritional supplements that can improve health and well-being. This video summarizes the results of a 90-day nutritional quality improvement program on outcomes in community-dwelling older adults in Colombia.
The original article, "A nutritionally focused program for community-living older adults resulted in improved health and well-being," was published in Clinical Nutrition in July 2022.
Gomez G, Botero-Rodríguez F, Misas JD, et al. A nutritionally focused program for community-living older adults resulted in improved health and well-being. Clin Nutr. 2022;41(7):1549-1556. doi:10.1016/j.clnu.2022.05.003