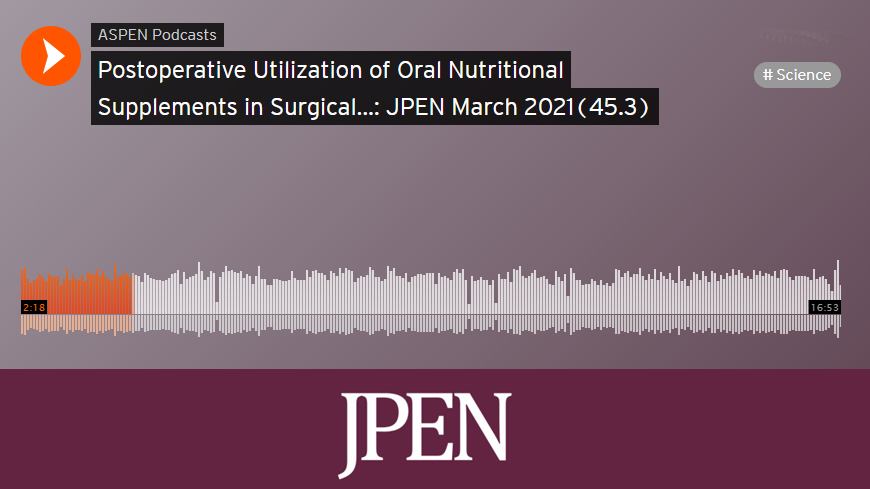 POSTOPERATIVE UTILIZATION OF ORAL NUTRITIONAL SUPPLEMENTS IN SURGICAL PATIENTS IN US HOSPITALS
presenter(s):
Kelly Tappenden and Paul Wischmeyer
In this ASPEN podcast, Kelly Tappenden, PhD, RD, interviews Paul Wischmeyer, MD, EDIC, FASPEN, FCCM, on an article titled, "Postoperative Utilization of Oral Nutritional Supplements in Surgical Patients in US Hospitals," published in the March 2021 issue of JPEN.
PRESENTER BIOS

Kelly Tappenden, PhD, RD, FASPEN
Editor in Chief, Journal of Parenteral and Enteral Nutrition
Professor and Head, Kinesiology and Nutrition
University of Illinois at Chicago
Urbana, Illinois, USA

Paul Wischmeyer, MD, EDIC
Professor, Anesthesiology and Surgery
Director, Perioperative Research
Associate Vice Chair, Clinical Research
Duke University School of Medicine
Raleigh, North Carolina, USA 

attended a live program?
FREQUENTLY ASKED QUESTIONS
continuing medical education courses
Earn CME credits at no cost to you.